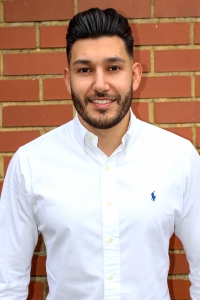 MASTER BARBERS, AT YOUR SERVICE
MEET THE TEAM BEHIND L'HOMME
ANDREAS, DIRECTOR AND BARBER
Here's a true gent who enjoys the finer things in life. (No surprise then that his are the brains behind L'Homme.) Andreas picked up his first pair of clippers at 13 and has never looked back. By his mid-teens, he'd landed a placement at the local barber, then a hairdressing job at award-winning salon, Rush, but it was at the London School of Barbering that Andreas developed advanced cutting techniques, expert scissor and clipper work, and the skills to work on every kind of hair type – European, Afro, Asian, Caucasian.
Fast forward 15 years, and Andreas is a forever in-demand barber with a wealth of experience. Hugely passionate, highly skilled (but ever humble), he's styled hair for celebrities, working backstage at the O2 arena, and truly believes an exceptional haircut really can change people, giving them newfound confidence. A self-confessed perfectionist, Andreas prides himself on understanding people's needs, and he loves getting to know each and every one of his clients. So when you're in Andreas's chair, sit back, relax and know that you're in for the grooming experience of a lifetime.
Andrea's inspiration for L'Homme?
Creating a seriously classy space for the modern day gentlemen to indulge in some seriously good grooming – topped off with his tipple of choice.
JOE, BARBER
Classically trained, Joe started his career as a hairdresser but quickly gravitated towards barbering where he realised he'd found his niche. The man has a knack for all types of barbering, but if it's layering and fading you're after, you could say it's 'his thing'. Outside of work, Joe collects artwork and vinyl records. He's always up on the latest fashion trends, loves a tattoo (or twenty), and is pretty handy to have on holiday. Joe spent over six months travelling around Cyprus and Spain, cutting hair 'on demand' – on beaches, on top of mountains, you name it. Commitment to the craft, or what?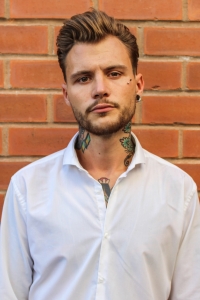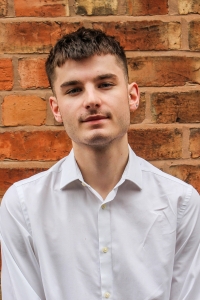 WILL, BARBER
Will's one of the best-known barbers in his local community – probably because he's always cutting hair. The man doesn't stop. He often goes from a full day at L'Homme to his home barbershop where he cuts yet more hair. What a grafter. Will started as an apprentice at another barbershop before getting his NVQ Level 3 from the London School of Barbering and then he joined the team at L'Homme. In his rare free time, Will enjoys reading, making money, listening to 90's American hip hop and sipping Hennessy (not all at the same time – though that would be impressive).
ELENI, DIRECTOR
An ex-professional dancer, Eleni knows a thing or two about performing under pressure. Always ready with a winning smile, she's a champion of world-class customer service and believes it is key to any successful business. Call up L'Homme and, more than likely, it will be Eleni's effervescent voice greeting you on the end of the phone. She takes appointments, looks after customers, and is a bit of a workaholic. (And after all that hard work, her favourite way to unwind is tuning into the latest TV series with an Elderflower and vodka soda.)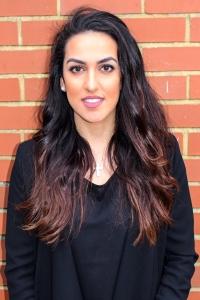 GET THE LATEST TIPS
STRAIGHT FROM OUR MASTER BARBER